Fathom Nickel Inc. ( CSE: FNI) (FSE: 6Q5) (OTCQB: FNICF) (the "Business" or "Fathom") is happy to reveal assay arise from the seven-hole, September drill program finished at the historical Gochager Lake deposit within the Business's 22,620 Ha Gochager Lake Job.
Emphasizes:
Constant nickel-copper-cobalt mineralization takes place in broad halos which host steeply oriented chutes of extremely conductive, semi-massive sulphide mineralization grading ~ 1-3% nickel.
Drilling continues to verify that zones of >> 1% nickel are connected with zones of high conductivity as specified by borehole electro-magnetic studies (BHEM).
Huge sulphide vein converged in GL23008 returned 3.25% Ni/ 0.64 meters. Extremely strong and complicated off-hole conductivity (BHEM) actions from this drillhole recommend extra mineralization of this type and grade takes place proximal to this obstruct.
Semi-massive sulphide mineralization converged at roughly 335 meters listed below surface area stays open up to depth.
Nickel tenor estimations recommend Gochager Lake mineralization tenor of roughly 3.5% (Ni100), which is equivalent to nickel tenors within the Sudbury Nickel Camp.
Drilling Emphasizes:

1 Noted drillhole crossways are down-hole crossway length and are not a real density. At present there is inadequate details to figure out real density.
Ian Fraser, CEO and VP Expedition mentioned," The September drill program succeeded in offering insight into the high orientation of the mineralization we converged in GL23003 and, significantly, its orientation along strike. It is now extremely obvious that steeply oriented chutes of semi-massive mineralization happen within broad halos of distributed mineralization. This current drill project converged numerous halos of broad distributed mineralization that all have the prospective to host extra chutes of semi-massive sulphide nickel-copper-cobalt mineralization. BHEM studies have actually discovered various strong off-hole conductors within the broad distributed mineralization halos. We are likewise incredibly thrilled and motivated by the existence of the huge sulphide vein in GL23008. Plainly, huge sulphides relate to state-of-the-art nickel – 3.25% in this case – and the BHEM informs us there is extremely strong conductivity off-hole of GL23008. BHEM is likewise informing us we didn't drill deep enough in GL23008 and numerous other drillholes, as conductivity continues to increase to the end of the drillholes. We have actually made remarkable strides with just 9 drillholes drilled at the Gochager Lake job in 2023. We anticipate continuing this success as we prepare to carry out the winter season 2024 drill program which we are preparing to start in Q1-2024."
Table-1
Drillhole Assay Summary: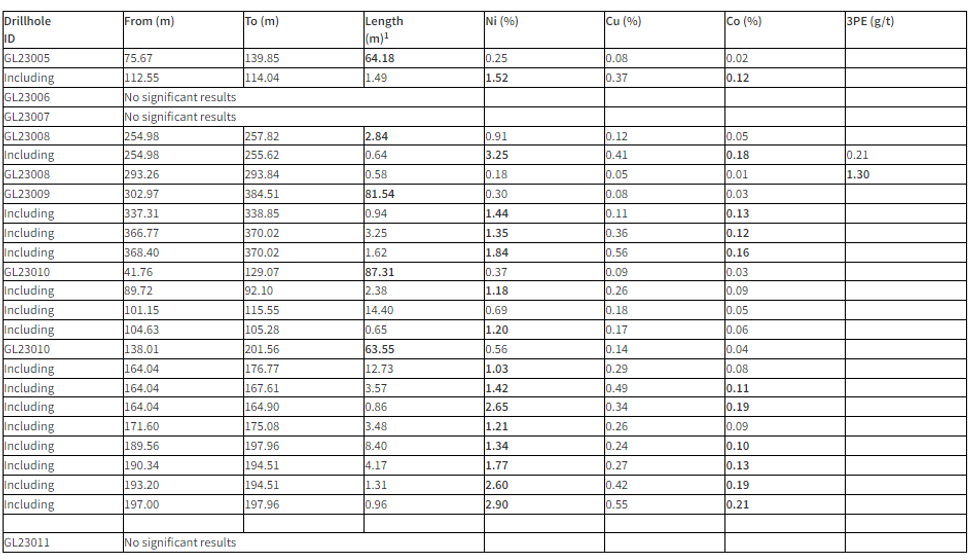 Table-2
Drillhole Place Particulars: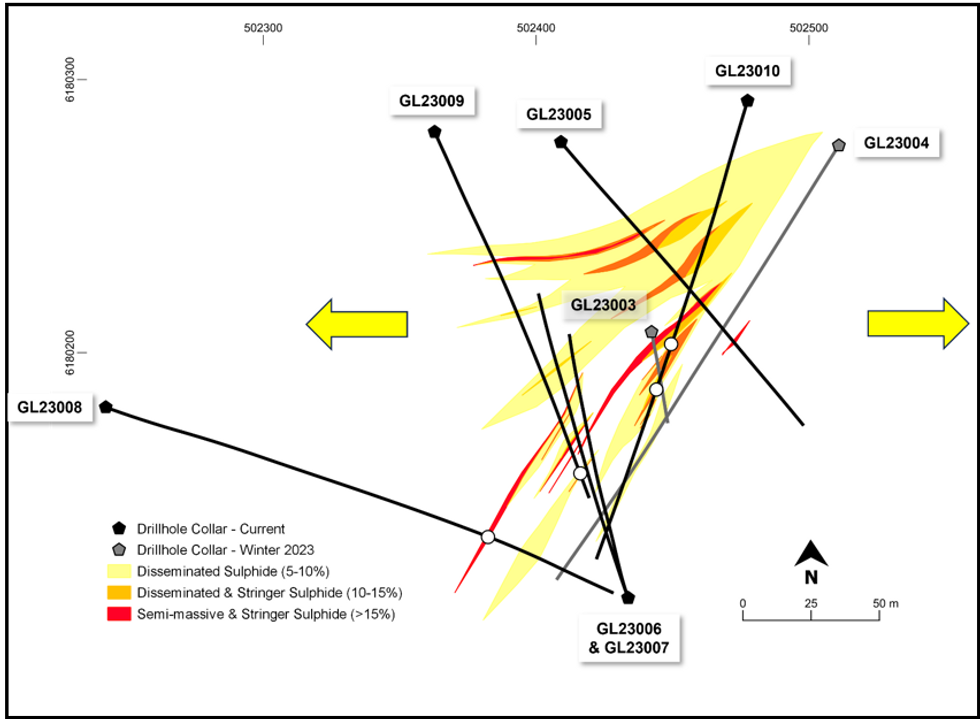 Figure 1: Fathom 2023 Drillhole Strategy Map (Strategy View)
Conversation
Drillholes GL23006, GL23007 and GL23011 reported no substantial outcomes (Table-1). Drillholes GL23006 and GL23007 converged numerous zones of weak mineralization >> 0.10% Ni – 0.25% Ni over densities approximately 17.89 m. The BHEM probe of GL23007 acknowledges the strong conductivity off-hole to the east and connected with semi-massive sulphide mineralization converged in drillholes GL23003, GL23010. It now appears this chute of state-of-the-art Ni mineralization has a north-northeast strike and not a northeast strike as initially prepared for. Drillhole GL23011 drilled ~ 400 meters to northeast of the deposit location, and not shown in Figure 1, was regularly anomalous in nickel (>> 100ppm and approximately 1290ppm Ni). Gabbro, the Gochager Lake deposit host rock, was visited the drillhole and the BHEM study has actually determined 3 off-hole abnormalities. GL23009 has actually considerably extended the historical Gochager Lake deposit to depth and the deposit stays broad open for growth to depth. The drillhole converged the zone of conductivity discovered off-hole of historical drillhole GL18002 however based upon the strength of the modelled conductivity it is unclear if the 3.25 m of semi-massive sulphide mineralization (1.35% Ni) is the precise source of this conductivity. Strong off-hole conductivity has actually been analyzed in front of GL23009 where zones of distributed mineralization happen in between depths of 43m – 217m. The state-of-the-art nickel mineralization converged in GL23010 is consisted of within 2 discreet broad zones of distributed mineralization (Table-1). The incorporating halos and higher-grade mineralized chutes within, stay open for growth to surface area and to depth. A 3rd mineralized halo in GL23010 was converged beginning at a depth of 260.05 m and continuing to 297.67 m (0.21% Ni/ 37.62 m). Mineralization within this period is extremely constant and here to, BHEM conductivity was analyzed to be developing to the bottom of the drillhole.
The Business will invest the rest of 2023 continuing to translate the drilling and geophysical information sets collected in 2023. The Business's objective is to drill 3,000 to 5,000 meters in Q1-2024 at Gochager Lake to even more define the broad mineralized halos and the more conductive and higher-grade mineralization happening within these halos.
Quality Control/ Quality Assurance (QA/QC) Disclosure Statemen t
Fathom executes an industry-standard QA/QC for all field and diamond drill programs. Fathom, through the services of TerraLogic Expedition Inc., inserts QA/QC samples in its diamond drill programs at a rate of one sample per roughly every 12-13 samples gathered. Standards sourced from CDN Resource Laboratories and CCRMP were placed into the sample stream at a rate of 1 in 30 samples. Furthermore, laboratory duplicates (coarse turns down) were placed and placed in the sample series at a rate of 1 in 30 samples and placed in the sample series rotating with requirements to lead to a QA/QC insertion rate of no less than 1 in 15 samples. Blanks were placed at the start of every sample batch and furthermore after samples of expected state-of-the-art or high sulphide material.
Assaying is carried out at ALS Canada Ltd. (" ALS"). ALS is a certified lab (SCC – CAN-P-1579 and CAN-P-4E ISO/IEC 17025) and is independent of Fathom. All drill core samples are examined utilizing a 4-Acid food digestion followed by 33 component ICP-AES analyses (Code ME-ICP61). Over limitation Ni, Cu outcomes are more examined by 4-Acid ore grade components ICP-AES procedure (Code ME-OG62). Analyses for Au, Pd and Pt used the ore grade Pt, Pd and Au by ICP-AES (Code PGM-ICP27). Overall sulphur is evaluated by (S-IR08).
Certified Individual and Information Confirmation
Ian Fraser, P.Geo., CEO, VP Expedition and a Director of the Business and the "certified individual" as such term is specified by National Instrument 43-101, has actually validated the information revealed in this press release, and has actually otherwise evaluated and authorized the technical details in this press release on behalf of the Business.
About Fathom Nickel Inc.
Fathom is an expedition business that is targeting magmatic nickel sulphide discoveries to support the quickly growing worldwide electrical car market.
The Business now has a portfolio of 2 top quality expedition tasks situated in the respected Trans Hudson Passage in Saskatchewan: 1) the Albert Lake Job, a 90,000+ hectare job that was host to the historical and previous producing Rottenstone deposit (produced state-of-the-art Ni-Cu+ PGE, 1965-1969), and 2) the Gochager Lake Job, 19,000+ hectare job host to a historical, NI43-101 non-compliant open pit resource; the Gochager Lake deposit,( of 4.3 M lots at 0.295% Ni and 0.081% Cu2, specified 1967-1970), a comparable drill evaluated nickel incident of drill crossways >> 1.% Ni (Mal Lake last drilled in 19673), and the Borys Lake Zn-Cu-Pb+ Ag incident.
2 – The Saskatchewan Mineral Deposit Index (SMID # 0880) reports drill showed reserves at the historical Gochager Lake Deposit of 4,262,400 lots grading 0.295% Ni and 0.081% Cu mineable by open pit. Fathom can not verify the resource price quote nor the criteria and techniques utilized to prepare the reserve price quote. The price quote is ruled out NI43-101 certified and more work is needed to confirm this historic drill showed reserve.
3 – Saskatchewan Mineral Deposit Index # 0836
ON BEHALF OF THE BOARD
Ian Fraser, CEO & & Vice-President Expedition
1-403-650-9760
Email: [email protected]
or
Doug Porter, President & & CFO
1-403-870-4349
Email: dporter @fathomnickel. com
Positive Declarations:
This press release consists of "positive declarations" that are based upon expectations, price quotes, forecasts and analyses as at the date of this press release. Positive declarations are often defined by words such as "strategy", "anticipate", "job", "look for", "mean", "think", "expect", "price quote", "recommend", "show" and other comparable words or declarations that particular occasions or conditions "might" or "will" happen. Positive declarations connect to details that is based upon presumptions of management, projections of future outcomes, and price quotes of quantities not yet determinable. Any declarations that reveal forecasts, expectations, beliefs, strategies, forecasts, goals, presumptions or future occasions or efficiency are not declarations of historic reality and might be "positive declarations." Positive declarations undergo a range of threats and unpredictabilities which might trigger real occasions or results to vary from those shown in the positive declarations, consisting of, without constraint: threats connected to failure to get sufficient funding on a prompt basis and on appropriate terms; threats connected to the result of legal procedures; political and regulative threats connected with mining and expedition; threats connected to the upkeep of stock market listings; threats connected to ecological guideline and liability; the capacity for hold-ups in expedition or advancement activities or the conclusion of expediency research studies; the unpredictability of success; threats and unpredictabilities connecting to the analysis of drill outcomes, the geology, grade and connection of mineral deposits; threats connected to the intrinsic unpredictability of production and expense price quotes and the capacity for unforeseen expenses and expenditures; outcomes of prefeasibility and expediency research studies, and the possibility that future expedition, advancement or mining outcomes will not follow the Business's expectations; threats connected to product cost changes; and other threats and unpredictabilities connected to the Business's potential customers, residential or commercial properties and service in-depth in other places in the Business's disclosure record. Such forward looking declarations include understood and unidentified threats, unpredictabilities and other elements which might trigger the real outcomes, efficiency or accomplishments of the Business to be materially various from any future outcomes, efficiency or accomplishments revealed or indicated by such positive declarations. These positive declarations are made since the date hereof and the Business does not presume any responsibility to upgrade or modify them to show brand-new occasions or situations other than in accordance with appropriate securities laws. Real occasions or outcomes might vary materially from the Business's expectations or forecasts.
NOT FOR CIRCULATION TO UNITED STATES NEWSWIRE SERVICES OR FOR DISSEMINATION IN THE UNITED STATES. ANY FAILURE TO ABIDE BY THIS LIMITATION MAY CONSTITUTE An INFRACTION OF U.S. SECURITIES LAWS
window.REBELMOUSE_LOWEST_TASKS_QUEUE.push(function(){
/*var slides = document.querySelectorAll('.div-list-carousel .widget'); let currentIndex = 0; let isAnimating = false;
function updateCarousel() { if (isAnimating) return;
isAnimating = true; slides.forEach((slide, index) => { const offset = (index - currentIndex) * 100; slide.style.transition = 'transform 2s ease-in-out'; // Adjust the duration as needed slide.style.transform = `translateX(${offset}%)`; });
setTimeout(() => { slides.forEach((slide) => { slide.style.transition = ''; }); currentIndex = (currentIndex + 1) % 9; isAnimating = false; updateCarousel(); }, 2000); // Adjust this delay as needed }
updateCarousel();*/
});
window.REBELMOUSE_LOWEST_TASKS_QUEUE.push(function(){
var scrollableElement = document.body; //document.getElementById('scrollableElement');
scrollableElement.addEventListener('wheel', checkScrollDirection);
function checkScrollDirection(event) { if (checkScrollDirectionIsUp(event)) { //console.log('UP'); document.body.classList.remove('scroll__down'); } else { //console.log('Down'); document.body.classList.add('scroll__down'); } }
function checkScrollDirectionIsUp(event) { if (event.wheelDelta) { return event.wheelDelta > 0; } return event.deltaY < 0; } }); window.REBELMOUSE_LOWEST_TASKS_QUEUE.push(function(){ !function(f,b,e,v,n,t,s){if(f.fbq)return;n=f.fbq=function(){n.callMethod? n.callMethod.apply(n,arguments):n.queue.push(arguments)}; if(!f._fbq)f._fbq=n;n.push=n;n.loaded=!0;n.version='2.0'; n.queue=[];t=b.createElement(e);t.async=!0; t.src=v;s=b.getElementsByTagName(e)[0]; s.parentNode.insertBefore(t,s)}(window,document,'script','https://connect.facebook.net/en_US/fbevents.js'); fbq('init', '2388824518086528'); });